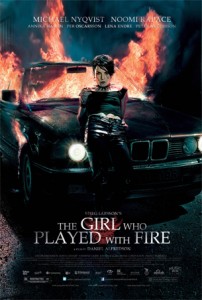 Lisbeth Salander is a woman I'd never want to double-cross. Too bad plenty of bad guys never learned that lesson.
Stieg Larsson created a wonderfully complicated woman in the character of Lisbeth. She breaks the rules, takes matters into her own hands, and manages to fight her way through all kinds of tribulations. If you have read the Millennium books, you probably gave a little shout of "You go girl!" a few times throughout the plot.
She isn't always in the right (she makes a living breaking the law), and she's been victimized so often, you'd think she was Job's sister. Her methods are extreme; however, you find her moral compass might point in a similar direction as yours.
I would like to think it's because she realizes she cannot be an individual without connections. People care for her, and she for them. She may fight it, but you see her come to the rescue or learn to let others help her. It the grand scheme of things, it's about the relationships with people.
So, since you are some of my people, I wanted to share an opportunity with you. We are in a time when there aren't many out there available to help each other professionally. It's not even that people don't want to help, but the available opportunities are limited. Students and young adults are still facing unemployment and lack of internships, and probably still will for some time. Who knows, when I get out of my MBA program in two years, the market could be just as tight.
As a way to offer one of those professional connections, I would like to share that Music Box Films and RAINN (Rape, Abuse, Incest National Network) are offering the opportunity for an internship with one of their organizations. You have an opportunity to impact the world, by sharing stories in film, such as The Girl Who Played with Fire, or by working with those who help to prevent sexual assault.
About the Contest
To compete for one of these internships at Music Box Films or RAINN, hopefuls must write and submit an essay (400-600 words) that explains:
Which company they would like to internship with and why
Why they should get the internship in terms of –

The Millennium Trilogy Films' impact on their life
Their future goals
The contest team will filter the essays and provide each company with the top 5-10 candidates interested in interning with them. Once the company has chosen a candidate, they will negotiate the terms and timing of the internship to their mutual benefit. Submit entries here. Contest ends September 30th, 2010. You must be 20-29 years old to enter. U.S. residents only.
Additional Hot-ticket Prizes:
1. Visit Stieg Larsson's Sweden – Enter for a chance to win the 2010 Larsson's Sweden Sweepstakes, including round-trip economy air transportation for two to Stockholm on Scandinavian Airlines (SAS) and passes to explore Larsson's Stockholm. SAS operates non-stop service to Stockholm from New York (Newark) and Chicago, and non-stop to Copenhagen from Chicago, New York (Newark) and Washington, D.C. You'll also enjoy luxury accommodations for three nights in the Sheraton Stockholm Hotel plus one night at the Seglarhotellet in Sandhamn in the Stockholm archipelago. Winners will be chosen at random from all entrants. You must be 20-29 years old to enter. U.S. residents only.
2 . Win an iPad – When you submit your entry, you will also be entered with a chance to win an Apple  iPad. Winners will be chosen at random from all entrants. You must be 20-29 years old to enter. U.S. residents only.
Submit entries here. More about the films base on the Millennium Trilogy, can be found at the official website for the film.  Don't forget to see the films The Girl with the Dragon Tattoo and The Girl Who Played with Fire.
I have not received any compensation for sharing this opportunity with my readers. From one book-lover to another, I wish the best of luck to all entries.