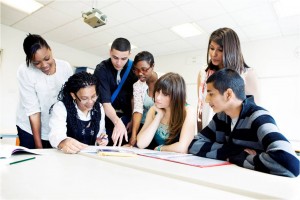 Many of you know that I used to advise a sorority chapter at American University. Since moving to Minnesota, I've been working with high school students through a Sunday school class. I don't know why I love it, but working with those just a few years younger than me is always fulfilling. And then again, a little challenging.
Some lessons…
There's a lot to be said for small groups. Either through committee meetings or when only a couple students show up, I've learned to not think "Man, I wish more of them were here." Instead it's a great opportunity to do more meaningful connections. Then when there are larger groups, you've already been accepted by a number of the students.
Someone has to be the grown-up, and it's not them. While I've been asked to be involved because I was so close in age, the students would identify with me easier, it also blurs the line. You become friends and want to hang out, but then when something happens and you have to be an adult, you find it's hard to step back over the line. I'm learning where the boundary is between close mentor and social friend.
You can help them be individuals, even in a group. This is important at their ages, often trying to discover who they really are as they begin to come out from under parents' wings. Spending time, talking, learning about interests, all of it allows them to continue to figure it out. And they love to see that you're still figuring it out as well. They know they don't have to have the answer right now, and it's all part of the journey.
You have to earn trust, but when you do, it's amazing. There's one student now who would do the polite smile, and that was it. I left the space (figurative and physical) between us wide because I knew that she was going to come to me when she was ready. Now we're connecting, and I can't wait to see the amazing things she's going to do. I've gotten to see her heart and even as a high schooler, it's still so whole. Not broken. It's enlightening.
You can't worry if they will remember you. They may not think of you every day, but they'll remember you. I still get notes and emails from my students a couple years ago, and thanks to social media, we can stay connected no matter where we go. You may have only impacted their lives for a short time, but you're remembered. Just like you remember those who worked with you while you were a student.
Every encounter with them is a fresh start. You can't bring your own baggage to these students. It's not their fault that you have financial or job troubles, that a boy broke up with you, or you have family stress. It's a time for you to begin as a neutral source, allowing them to be the ones to pull your experiences so they can learn.
Even if you are still fresh from school (high school, college, graduate), take an opportunity to explore what working with students is like. You might not only learn about them, but learn about yourself.
What other lessons have you learned from teaching or mentoring? What are some challenges you've overcome? What are your favorite teaching experiences?
Photo from clipart.