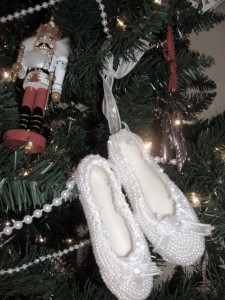 Everyone does a lot of reflection right now. They think about the past year, the accomplishments and challenges, the lessons and teachings, the joy and sadness.
If you are fortunate enough, you also get to spend a few days slowing down, doing nothing but sitting with family. You get a chance to reboot for the year ahead.
I used to think the time was a great opportunity to catch up on everything that I haven't gotten to do. Check some things off "the list." I've already been going through my book shelf, pulling business books I haven't had a chance to read. I look at the stack and wonder why I didn't download them to my kindle. Then I wonder why Amazon isn't doing 2-4-1 deals, if you order the hardcopy, get a kindle copy, too…or at least a discount. Then I think about Amazon business plans, and I forget that I'm trying to plan for my down time. Oops.
Instead, I should probably pull out my cookbooks. There are some great things I want to try, and I love cooking in the kitchen with my mom. On top of that, the look on my dad's face is always classic:  "What crazy thing are we having for dinner now?" Or I should be thinking of fun things to do with my brothers. We're *almost* past that age where we don't fight anymore, and there's something nice about wine tasting with guys who's biggest taste discrimination was choosing Natty over Beast.
Or perhaps thinking about what crazy thing is going to happen this year. A couple years ago, our centerpiece burst into flames on Christmas Eve. Nothing bad happened, but my dad's attempt at the tablecloth trick was kind of hilarious in hindsight. Last year, I fell down the stairs. Again, I was fine, but I couldn't actually get up for about 10 minutes I was laughing so hard.
We love to laugh at our house.
I also want to think about my new family. You guys. The community I've become a part of online is so important to me. I plan on spending some time with you guys as well, hearing about your own holiday stories.
So, one tiny bit of reflection for 2009 comes from recent news. One of my posts was listed in the Top 50 Blog Posts of 2009 on Brazen Careerist. Not only am I quite honored, but I was struck by the serendipitous fortune of learning the post was "I Didn't Do Vacation Right." As if the universe (or Ryan Paugh) was speaking to me, I'm ready to do vacation right this time. No work, just fun and family.
I hope you get to take time as well. Happy Holidays!