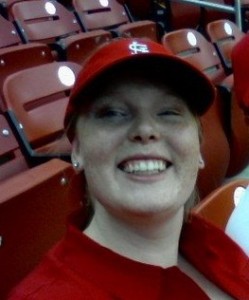 As I head off for Virginia Tech, I thought I'd give a little summary of what I've learned from my summer watching Cardinals baseball. And of course, I've managed to learn business lessons, but don't worry, I know about RBIs, batting averages, and why you'd make a call to the bullpen.
When the Air is Heavy, You Have to Change Your Strategy: One night, we were sitting at a stalled game, and after almost 2.5 hours of a rain delay, the game got going. Unfortunately, the balls didn't. The humidity was so bad, those big hits wouldn't go up. Imagine a ball trying to fly through jello…it just doesn't. As the game continued 0-0, it wasn't until after midnight that Brendan Ryan hit a grounder that brought a runner in. They were forced to look to the ground to help them out since clearly the air wasn't. You have to change your approach when the environment challenges you.
Sometimes You Have to be a Generalist: After playing rec league softball, I know there are people who specialize (pitchers) and people who play all over (the rest of us). In baseball, there are more specialists, but sometimes you run into these utility players who can do it all. Aaron Miles has been doing a great job this year, even pitching when needed. If you know you're not going to specialize in one thing, sometimes it pays off to be good at a lot of things. You can even be more valuable in the long run. It's why we like leaders who know things across the board, we feel like they've been where we are.
The Other Team Can be Just Like Your Bratty Coworker: So, if you missed it, there's a ton of drama with the Reds. Their second baseman decided to call the Cards "little bitches," then failed to live up to the hype. The second game began with a brawl, and as of now, I don't know who's suspended. FYI, the Cards won all three games…by a lot. We all know it: it's hard to take the high road. When someone bad mouths you about a project or your brand, you try to turn away. You know it's overcompensation for underperforming. Unfortunately, it's everywhere. My best advice is to take that good sportsmanship you learned as a kid and apply it to work. People will notice.
Sometimes, You have to be Scrappy: I don't know much about Brendan Ryan, but what I've seen of his second half reminds me of kids playing ball. He dives, rolls, and throws balls like a cannon, often from crazy angles. It's the way kids play before coming down with years of sports injuries. Plus, Ryan wears the stripped socks sometimes, and I think that little change (cause most everyone wears long pants) really does make him a scrappy kid coming out to play ball. You want that energy on your team, the kind of energy that hasn't been jaded yet. I know this is a turn from Ryan's first half of the season, but if he keeps feeding that feeling, he'll keep doing well.
What lessons have you learned from sports? What lessons do you think sports can learn from business? What's your best sport story?