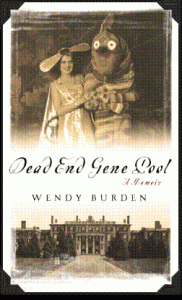 One of the reasons we love Reality TV is because the funniest things happen when life is unscripted. As is often said, "You can't make this *#&$ up." In fact, the way most comedic movies and shows come about is because one of the writers walks in and says, "You'll never guess what happened to me." We also see these true, funny stories in blogs, letters, and memoirs. We've always been documenting the crazy things that happen; I'm sure it's been that way ever since people shared stories around fires.
The other reason we love to hear these comedic stories is because there's a little part inside all of us that just loves the juicy details of someone else's crazy family antics, if only to make us feel better about our own family's antics.
Dead End Gene Pool. The title practically explains it all, but I'll give you a little summary. Wendy Burden, the great-great-great-great-granddaughter of Cornelius Vanderbilt shares the little nutty stories from her childhood growing up in a world only the wealthy truly see. Wendy documents everything from her Wednesday Addams phase experimenting with the rate of decomposition for birds buried in the backyard, to interactions with the Nazi uncle her grandparents try to keep from embarrassing them in polite society.
In reading Dead End Gene Pool, I spent a good amount of time laughing, sitting with my mouth open in shock, and even cried a little. Wendy is hysterical in describing her morbid curiosity with death. One Christmas, she imagines Santa bringing her an Easy-Bake Oven to be used as a experimental crematorium, and she spends hours looking up words in encyclopedias like "embalming." You can just imagine her sitting in the kitchen harassing the chef to let her give the turkey an "autopsy" before he sticks it in the oven. If you went through any kooky phases growing up (and you know you did), you'll recognize yourself in Wendy.
A dominant theme to the memoir is the tumultuous relationship Wendy had with her mother. Leslie Burden had married well, only to have her husband commit suicide early into the marriage. From those moments on, you picture her to be the type of mother who will always say she's celebrating her 31st birthday year after year. Leslie spends most of Wendy's childhood away on tropical islands or foreign countries, soaking in sun and booze, and is a substitute mother at best. And then later, when Wendy is in her teens, Leslie tries to compensate for that, but the focus always came back to her instead of to her children. By the last page, I was incredibly thankful my mother and I had a nurturing relationship of love and respect, not competition.
One of the most heart-wrenching parts of the book was reading about people who had been pillars of society diminishing before Wendy's eyes as they reached old age. No matter who you are, the idea of losing your faculties to the point where you are a shell of your former self is a frightful thought indeed. It is a universal truth, and while having money might help to a certain degree, someone may still need to spoon-feed you mashed peas.
Wendy's memoir is a great read, especially because all the stories are written so you feel as if you're in the room dining and drinking with her family. You could even say there's some good parenting advice in here, mostly about what not to do. At the heart of it, though, you realize no family is perfect, and that sometimes it's the little things you can do that bring love into the family, even if they are a little crazy.
Win a copy of Dead End Gene Pool
We will be giving away one free copy of Wendy's book, and I think you'll really enjoy it. To enter, I'd like you to leave a comment below about a phase or something kooky you may have done as a child. It doesn't have to be the most embarrassing thing (we all need to keep some secrets to ourselves), but something that makes you think back and laugh. The deadline is Noon EDT on Wednesday, March 30th, good luck!
You can learn more about Wendy at her website, and her memoir is available for purchase online and in area bookstores.