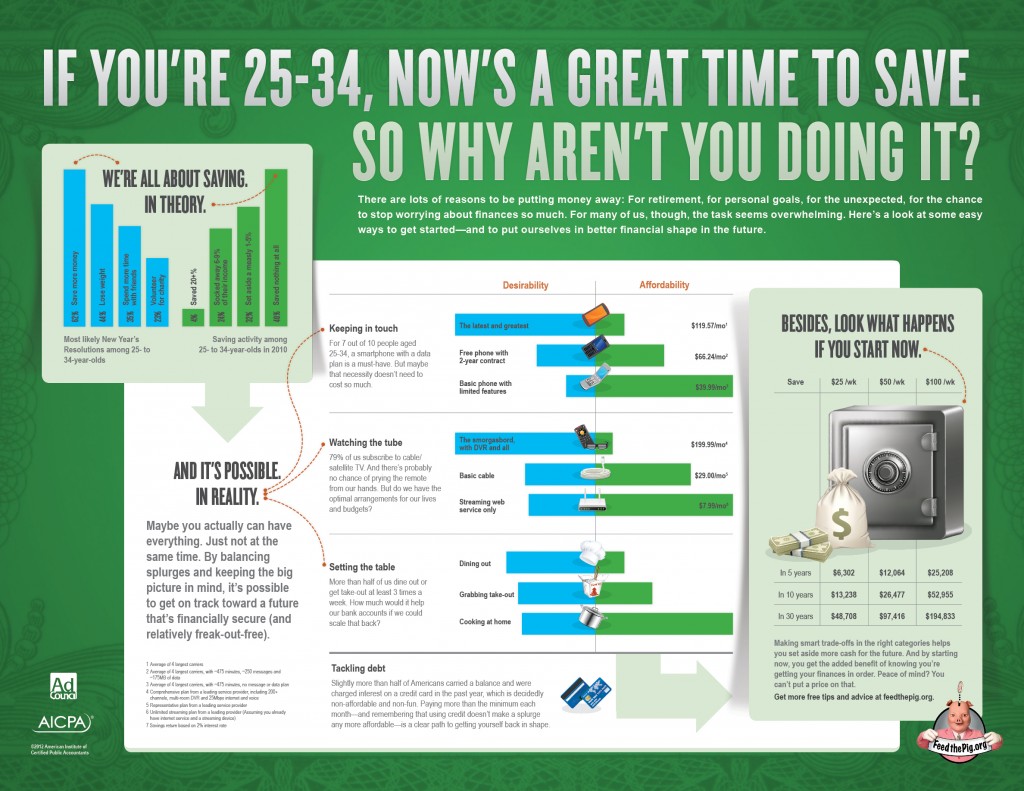 One thing I can tell you has not changed in becoming a student again is that it is still tough to save money. I'm not quite eating ramen like most undergrads, but a graduate student budget isn't much bigger. It is hard to save, and it is really hard to save when you're young. It is really important to start setting aside money early, though, because getting in the habit can really help plan for the future.
The American Institute of CPAs and the Ad Council on a national public service began a campaign called Feed the Pig to encourage millennials ages 25-34 to take control of their finances and make saving money a part of their daily lifestyle. (Warning, if you go to the website, it starts talking to you.) By saving money early, it's amazing to find out that it can be easy to get control of your finances. The campaign wants this age group to see the importance of saving – not just for a big purchase but farther down the road for retirement and family.
I've included an infographic, based on a recent survey conducted by the AICPA and the Ad Council, illustrating how small, simple changes can make a big difference in the long term. Rethinking your smart phone data plan or nixing cable and opting for streaming services are just some of the options presented to help millennials see easy ways to increase savings.
Thanks to Hannah Harrill for sending this my way. I know I already have automatic payments sent to my savings for my "coffee fund" to make up for any lattes I grab on my way to class. How do you save?