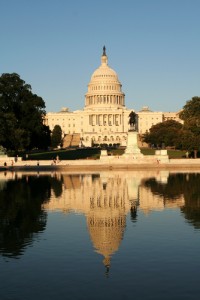 If you know me, you know I don't exactly thrive on politics. I was asked by our editor over at The Daily Get Up to contribute something on the Gen-Y perspective, and well, that's exactly what I do! Since I rarely cover the subject of politics, I thought I would share this post:
Politics Schmolitics: This Gen-Yer's Feeling About the Red and Blue
Let me tell you how fun it was to be in D.C. the year leading up to the 2008 Presidential election. It was about as fun as coming down with H1N1 for the whole year. I didn't want to be on either side.
However, I am not apathetic to the government.  As a Navy brat who used to be in federal sales, I have been around the government all my life.
To me, politics and the business of running the government are two different things.  Waving mini-flags and sporting bumper stickers doesn't show me you necessarily understand what you're supporting.
Photo credit.