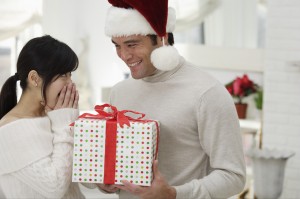 Let's talk about Christmas. Yep, on Valentine's Day, I want to talk about Christmas.
This year, I missed the Valentine's advertising. I saw a great full-page ad from Tiffany's in the Wall Street Journal ("Be Mine"), and I saw Godiva on Squawk Box talking about the business of chocolate. That's it.
Did you ever notice that a lot of Christmas advertising could be Valentine's advertising if you just removed the tree? Think about it: it's usually still winter wherever you are (and probably even colder than December), you're spending time with the one you love, and you hope there's spontaneous moment when a diamond shows up. All those jewelery and gift commercials for the holidays could be used at Valentine's.
Not that I'm saying they should be recycled.
You know a company has done a great job at their marketing, however, when they can create the same feeling of romance on a holiday that isn't usually associated with romance. All the jewelery retailers have that talent locked down. In the business product cycle, diamonds have become a bit of a mature market. We know what they are, but the reason Kay can differentiate itself from Jared's is that there's quality, service, and selection. Think of the intrinsic returns if you show up with a Tiffany's box, it means something.
We may not want to capitalize on something as sacred as love, but you have to admit: the warm-fuzzy commercials get you every once and a while. So if they've got you at Christmas, you've already got those companies in mind by the time Valentine's rolls around. Good business? I think so…
Happy Valentine's Day!
Photo credit.