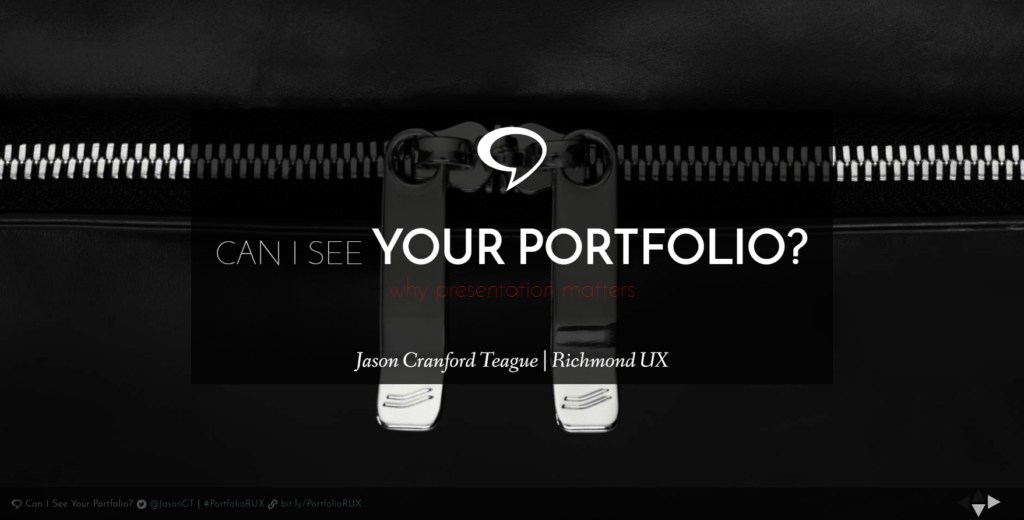 Image from Jason Cranford Teague's RUX presentation "Can I See Your Portfolio?"
First impressions matter. Whether you're going on a date or a job interview, there's always pressure to share the best parts of yourself. Most recently, Richmond UX hosted a talk with Jason Cranford Teague about portfolios. It gave me a chance to revisit several of my previous blog posts because a lot of the advice is still true.
Revisit: Doppelganger: There isn't Just One Web You
Unless you have a very distinct name, it can be quite difficult to find the "you" that's you online. There's a good chance a recruiter or client will do a quick search on LinkedIn or Google to find you to check you out. It may not be an official vetting, but did they find the right you? The #PortfolioUX talk emphasized how important it is to own your domain and be consistent. Use the same photos, be aware of your doppelgangers. Take advantage of the fact most people don't plan their social and digital profiles. Having the same photo and a clean look will help those important people know that they've found the right you online.
Revisit: Building Your Marketing Tool Kit
Your toolkit isn't just your personal set of skills – it's the team that you're on. So as you build a portfolio, be clear about your role on the team in each of those projects. As Teague said, "Explain your work, but don't embellish." Your team might have a key person who drives the organization, project management, and keeps the trains moving. If that wasn't you, don't say you helped keep the group on task to deliver something on time or under budget. But if your job was innovative thinking to get to a specific campaign or solution, talk about that process. It will help the reader understand what skills you bring to the table.
Revisit: Get Your Own Case Studies
The dreaded case study. They can be boring and pompous at the same time. Your portfolio is a chance to showcase all your achievements like case studies. Think about ways you love to hear about stories or other people's accomplishments, then use that style to help craft your own examples. But most importantly, if you're missing a specific project or skill you want to demonstrate – then make your own opportunity. Take on freelance work, volunteer to do the project for someone, or just build a concept. Make sure you give it the same rigor you would have as compared to all the other examples in your portfolio. You won't just be adding a new example either, you'll be demonstrating how you can go above and beyond.
A Few More Thoughts
Teague's presentation included a lot of great advice that in theory goes without saying. And yet all of us know, you still need to say it. Here are a few of his best tips:
Building your portfolio:
Only include the best. See above re: Case Studies. If you know you could do something better, then just do it.
Explain your work, but don't embellish. This is critical as more projects include blended teams. Demonstrate where you really shined because it'll result in the work you love to do instead of having tasks that someone else on a team should really own.
Create your story. This isn't a "Once upon a time," recommendation, but more like the age-old best practice of having an elevator pitch. Your digital identity is the new pitch, so make it compelling.
Keep it fresh. LOVE a project of yours from 10 years ago? That's great but might not be so relevant to what you're doing today. You want things from the last two years at the top, then really edit out old things from there. You can save an archive, but think about how you'd react to seeing someone's best work was almost a decade ago.
It's alive! In the digital age, you've got to make sure you're sending people to a live site. I'm guilty of not checking back to this blog to make sure it's still functioning. If you're afraid something will be pulled down? Grab screenshots and comps so you have the records when someone asks about it in the future.
Check out Teague's presentation and good luck with your portfolios!
In NOVA? Check out Teague's workshop September 24-25 – You Are UX: Understanding Experience Design for Non-designers. This interactive workshop will train programmers, developers, managers, executives, and anyone else in your organization to empathize with the needs, wants, and desires of customers to create products people not only want to use, but love to use.