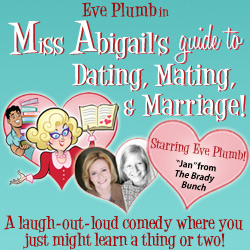 One thing I started doing a few years ago was buying tickets to events as gifts. Now that there are so many service charges when you buy tickets, it almost too much of a bother. On the other hand, when someone gives you tickets, then you don't even have to worry about those pesky charges, you get to have a great night!
Well, Merry Early Christmas, I'm giving away tickets!
Do you remember Jan Brady from The Brady Bunch? Well, the actress Eve Plumb is now gracing the stage with advice on this crazy mating world we live in. The NYC Off Broadway show Miss Abigail's Guide to Dating, Mating & Marriage is the story of Miss Abigail, the most sought-after relationship expert to the stars (think Dr. Ruth meets Emily Post), and her sexy sidekick Paco, as they travel the world teaching Miss Abigail's outrageously funny "how-to's" on dating, mating and marriage!
During this 90-minute comedy, you're guaranteed to laugh-out-loud and learn a thing or two . . . like how to have a perfect kiss (it's all about lip position) . . . what you should and should not talk about on a date (don't mention your troll doll collection) . . . and how to let a man think he wears the pants.
Let Miss Abigail take you back to a simpler time, before booty calls and before speed-dating . . . back when the divorce rate wasn't 50% and when 'fidelity' was more than an investment firm!
You can learn more about the show at their website, and read this great review from Entertainment Weekly.
I have TWO pairs of tickets to giveaway to this show, you got it, TWO!
To enter: Write a comment that tells me what kind of dating, mating, and marriage advice you might share if you were Miss Abigail. Enter by 12:00noon Eastern on Friday, November 19th, and I will do two random number drawings.
If you don't win this week, you can still get tickets at a discount. If you use the code DATING, you can get special discounted tickets for $45 on the show's website.
Good luck!
We have winners! Congrats to Shaya and Patrick, and thanks for entering!!