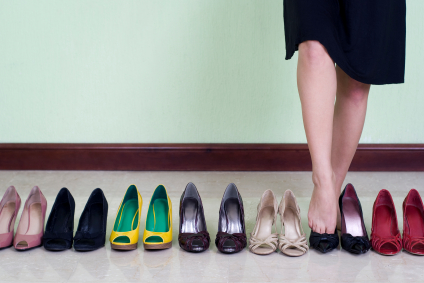 Hey everyone, so I wanted to share that I'm posting over at the ForbesWoman blog: Work in Progress. Today is my first post, so here's a little teaser:
We operate in a world of symbols. If you have the American flag plastered on your jersey, you might be supporting Team USA. If you're sporting a stethoscope, you're likely in the medical profession.
And if you love shoes like you're Carrie Bradshaw, you're probably a woman. (For the purposes of this post, I'm going to stick with this generalization.)
I love my shoes. I really do. I don't own anything more expensive than Nine West outlet pumps, but all the same, I adore the rows of heels in my closet…and the ones in the bag at work…and under my desk. These shoes are extensions of me.
Read the rest here.
Additionally, thank you to my readers for nominating and voting for me for the OnlineMBA and AwardingTheWeb 2010 Top Women in Business Blog awards. I'm very excited to be included in this list, and I recommend you check out the other bloggers.
Photo credit.