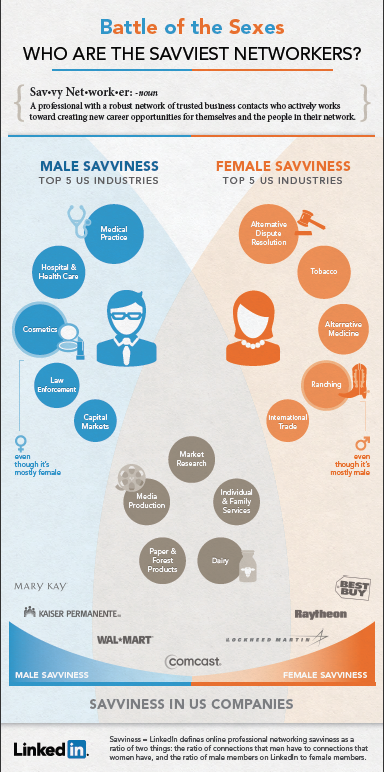 The battle of the sexes. Got to love the idea that we're still in an "us vs. them" world sometimes. Even if we do try to make it more about uniting instead of separating, you have to acknowledge there are differences between men and women. Well, when it comes to online professional networking, it looks like there really is.
LinkedIn, the world's largest professional network with more than 100 million members worldwide, released a report noting that men are more the savvy online professional networkers. Based on pulling data from millions of members, men just "get it" more than women, across the globe and across the U.S.
Now, I'm not really surprised at this. I had a hunch that women prefer smaller, more targeted gatherings for networking than vast collections of connections online. It can feel like creating a massive Rolodex, and if you aren't actively job-searching, it can seem like you're spending time on relationships you don't need at the moment. But that's just it, you may need those relationships down the line.
Just in case you're wondering, LinkedIn did develop a method to the madness of defining "savvy." LinkedIn defines online professional networking savviness as a ratio of two things: the ratio of connections that men have to connections that women have and the ratio of male members on LinkedIn to female members.
Ladies, all is not lost. Deborah Tannen, author of You Just Don't Understand: Women and Men in Conversation, notes women are more apt to use "rapport talk" instead of "report talk," as preferred by men. We are naturally more oriented towards building relationships, and therefore we should nurture our online network as possible.
"Having the right connections can make a difference when it comes to sealing a deal or landing a new client," said Nicole Williams, LinkedIn's Connection Director and best-selling author of the book, Girl on Top. "Women can sometimes shy away from networking because they associate it with schmoozing or doling out business cards, when in reality, it's about building relationships before you actually need them. Networking in person can be intimidating, so women should look at a site like LinkedIn as a place they can go to cultivate their networking skills.
Men aren't leaving us in the dust however, they're just adopting faster. "I was actually the one who introduced my husband to LinkedIn," said Sharr Stark, an independent consultant and LinkedIn member based in Portland, Ore. "We sat down and I showed him how to request recommendations on LinkedIn so he could in turn leverage them as testimonials on his website. The recommendations on his profile are great because they help him market his services to other potential customers."
The real meat of the report comes when you slice the data by industry. For example, the cosmetics industry (which might be considered female savvy), is actually considered a male savvy industry when LinkedIn runs the data in its network against the definition of savviness. "This means despite the fact that there are more female professionals in the cosmetics industry, men in the cosmetics industry tend to have larger networks and send more invitations than the women in that industry," according to the report. "In the tobacco and ranching industries, it was the female professionals that were savvier networkers than men (even taking into account the fact that the male-to-female ratio is higher in those industries). LinkedIn's data analytics team believes this could bebecause the minority sex has to network harder than the dominant sex to break intothose industries."
Top U.S. industries where women are savvier online professional networkers than men
Alternative dispute resolution
Tobacco
Alternative medicine
Ranching
International trade and development
Top U.S. industries where men are savvier online professional networkers than women
Medical practice
Hospital & health care
Cosmetics
Law enforcement
Capital markets
In the U.S., men and women were equally as savvy in the following industries: "market research," "media production," "dairy," "individual & family services" and "paper & forest products."
If you are a networking newbie, here are some tips to increase your savviness ranking:
Be prepared. Before you attend any business event, use LinkedIn Mobile to see where people work, what position they have, how long they've been there and if you have anyconnections in common. Make sure your own profile has your full work history, education and skills so other professionals can learn more about you.
Mingle. Your LinkedIn network should be made up of at least 50 connections you know and trust, but you should also actively look for new connections and move out of your comfort zone. If you only talk to people you know, you're less likely to find new opportunities. Find new connections by joining LinkedIn Groups focused on topics you're passionate about. Look for working parent groups or groups related to the environment so you can meet professionals who share your interests.
Put your scorecard down. Great networkers don't have a "gimme gimme" mentality. They focus on connecting and helping new people. Opportunities often arise when you reconnect with people with whom you've lost touch. Look at your LinkedIn Homepage like your own professional dashboard chock full of useful reasons to reach out to your network. If you see that a connection just got promoted or landed a new client, shoot them a note to say congratulations and ask them what they are working on.