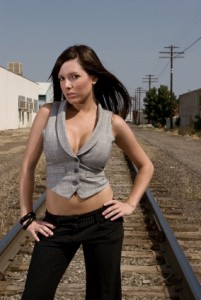 Recently I read a story by Aisha Sultan in the St. Louis Post-Dispatch called "Clothes Send a Message." Sultan wrote about clothing brands that claim to be geared toward the 20-something woman but seem to advertise for teen girls. These brands market using scantily clad women in questionable outfits. Unfortunately, most school dress codes don't include street-walker has part of a permissible appearance.
What's even worse, someone hasn't bothered to tell companies that hooker is in fashion. Last time I checked, office dress codes prefer you to be fully clothed.
I was reading this article and found myself kind of frustrated. The practically naked models are geared for women who probably need to see more sweater sets than bustiers.
There are already enough strikes against young women when it comes to dressing office appropriate. How long should the skirt be? Are these pants too tight? Is this too much cleavage? Are these considered stripper heels?
Also, thanks to the recession, many 20-somethings don't have much disposable income to have an expansive wardrobe outside of office wear. Extras might really be limited to tshirts, jeans, and sweats. The entire drawer of "going out" tops gets filled instead with pantyhose and nude bras.
For women, it might be easier to start conservatively (as with suits), then feel your way to what works best in your environment (like using bright colors). Where do you look, though, for these office-appropriate fashions?
Probably where your boss shops…
Your boss and other leaders have probably done the homework for you. They know where to shop, and they also set the bar for what's acceptable. They look put together.  Think about it, you don't just need office-appropriate clothes, but you need things that are well made. No offense to some of the scanty brands, but the clothes don't just look like they fall apart, but they do! Even some of the casual brands we love so dearly use bad fabric and have holey seams.
My tips for the 20-something woman is to look for brands who seem to target the 30/40-something professional. They already got the office dress code memo, and they've been really rejuvinating fashion over the last few years. L.L.Bean has been diversifying the fit and style of clothes, plus those pieces seem to last forever. Ann Taylor has always been a good spot, as well as most department stores. Ladies, also visit Lane Bryant if you find that traditional sizes just aren't fitting. Your boss doesn't care about the size of your outfit, just that you aren't bursting at the seems.
Don't foget to think about comfort. Pain in the name of fashion isn't necessary when you sit in a cube all day. Save it for the weekends.
Finally, when you consider your future, remember dressing for the position you want does go a long way. You don't need to only visualize yourself as an executive as you look in the mirror each morning, dress the part. Steps to moving forward begin a long time before you ever get to those positions, and adjusting your appearance is a great way to start.
Photo Credit.