Hi everyone! Can you believe that 2010 is just around the corner? Well, time to check in and see how it's going: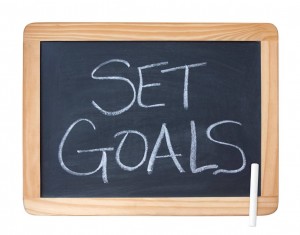 1. Prepare to launch emilyjasper.com! Well, if you can't already tell, I kind of accomplished this one. I'll say, it's pretty good to set a goal that has a concrete deliverable (work-speak or what?) and see it come to life. It's been quite exciting, my Holiday Cards even have my website on them! I'm looking forward to the future here at emilyjasper.com.
2. Raise my Quantitative GMAT score by 10 points. I managed to accomplish this, but now need to get into high gear. I'll be studying the rest of December.
3. Do something social every week. This has worked out very well. It's funny, though, because a number of my social activities are during the week. Then my weekend is still my own for relaxing. I talked with another friend, and we both agreed it's nice to not feel pressure to book things for Friday and Saturday when you're trying to wind down from the week.
4. Stick with the painting/creative work. There's a lot of new art out there. Actually, I've gone ahead and decided to sell some of my work thanks to the great comments from you guys. I will continue to post some of the pieces up here, and feel free to commission a piece from me if you need it 😉
So onward to December. Well, that's a little tricky. In my head, I kind of assume December is over. Many of you who work in a world of numbers and deadlines know there's a hard push at the end of the year. Most initiatives are pushed out until January, and December is drive time. It's also shortened drive time, maybe 3 weeks if you're lucky. But I'm going to try and get in a few things anyways:
Take the GMAT. Remember how I said I needed to do some hardcore studying? Well, this is why. I have scheduled a date, and I'm hoping to take it, then enjoy my holiday without worry. We'll see…
Get out the Holiday cards BEFORE Christmas. If any of you send actual paper cards in the snail mail (yes, it's ancient I know), you know it can take a while to get everything out. There's addresses, letters, photos, short messages, stamps…the whole dog and pony show. Well, I'm my mother's daughter, so sometimes I get delayed. Let's hope not this year.
Do Christmas for $100. I'm not attempting to go cheap here, but thinking about doing more meaningful gifts. I found something on Etsy for my brother already, and I think he'll really like it. I created a gift on Snapfish for my parents, and used a 50% coupon, so I could actually make one for myself. I'm looking for more meaning with better value this year. I think my family will really appreciate it.
Hug More Often. A few weeks ago, we did a service where we planted bulbs with the High School kids and said thanksgivings for loved ones no longer with us. One of the girls was moved to tears, and I offered her a hug. She held on to me so tightly, and I realized, this was a feeling I missed. So don't run if I come at you with open arms.
Good luck everyone!!
To participate in the meet-up:
1. Post a list of your career/life related goals for November, along with your checked off October goals if you'd like, on your own blog.
2. Come back to modite.com and leave a link to your post in the comments (*If you don't have your own blog, feel free to share your list here in the comments to join in!)
3. Then, check out everyone else's lists as they leave comments – click their links, visit their blogs, say hello, meet, greet and support each other because that's what it's all about!
Picture from clipart.