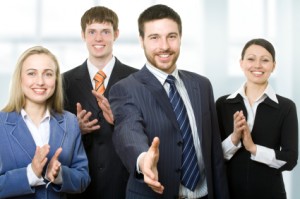 I like structure. I like learning from people who have come before me. As I like to say, "I can think outside of the box, but there needs to be a box."
That's why I enjoyed my time in the corporate world. Sure, there were days that are a little frustrating, but that's how it is everywhere. There were a lot of pre-established policies and procedures so you didn't have to spend time worrying about the "how," and instead you could focus on the "what." Once you get rolling, you can start innovating the "how" and the "what," moving your company forward.
What I also love about organizations (not just companies) is that there are usually a lot of resources available to you. When I was a sorority advisor, I had manuals and trainings I could utilize. As I start my MBA program, there's a group called the MBA Association that offers everything from professional to personal development programs.
Call me crazy, but if it's there, I'm going to take advantage.
Apparently people do think I'm crazy. Not everyone, but sometimes I get the, "Why would you join that?" shocked look from people. It reminds me of being in high school when peers thought it wasn't cool to be in the National Honor Society. Why not? It wasn't just a line on a college application, but a way to provide service to the community, foster scholarship, and build a better student body.
I admit it, I'm a joiner.
If there's an association or group that might make an impact on the community or professional world, while still giving me the opportunity to learn and grow, I'll do it. I fully believe you get what you put into things, and why not benefit when there are others like you uniting their efforts?
Leadership opportunities aren't limited only to the office. Special projects might show up through your volunteer organization, not just a cross-functional group. Learning new skills isn't unique to a classroom setting.
I think if you have the too-cool-for-school attitude about joining organizations, you're missing out. You're probably setting yourself up for disappointment actually. Down the line, you'll kick yourself when you see all that you missed. Or, you'll be a baby and continue to bad mouth what you're too ignorant to utilize.
Don't worry, you won't be duped into blindly following everyone as they jump off a bridge. If anything, they'll be insuring you have a safety instructor and backup bungee cord. As you get more comfortable with joining, guess what will also happen?
You'll be better at leading.
Sounds like a no-brainer to me.
Photo credit.